Small Group Studies
Fresh Start Bible Study
This group is a great way to get your week off on a "fresh start". Our time of fellowship and study starts at 11 a.m. on Monday mornings in our chapel. We are currently finishing up a book on rediscovering church after the pandemic. Starting May 1st through May 22nd, each Monday we will be looking at "The Belonging Project" which is an outreach program featured in "The Presbyterian Outlook" magazine. Come learn about the practice of belonging, the place of belonging, the conditions for belonging and the complexity of belonging and other topics. The church, post-covid and always is changing. We will examine this idea and what it means for us as a body of Christ moving into our new reality in the world. May 22nd will be our last meeting of the spring. We will not be meeting in June, July or August. Questions can be directed to Fred Barnes.
Jesus & Joe Men's Fellowship
This men's time of fellowship and study meets every Friday morning at 8 am until 9:30 am in Southminster House. We are currently watching the video series of the depiction of Jesus's life entitled "The Chosen". It is a fascinating look at the life and times of Jesus and his disciples. We discuss each episode and try to gain understanding of what being a disciple looks like in today's world. All men of the church are welcome to join the discussion. Try it, you may just like it! Any questions can be directed to Fred Barnes.
Sarah Circle
The Sarah Circle meets monthly on the fourth Tuesday at 1:00 p.m. in Southminster House.
The Sarah Circle has been welcoming women to come and participate since their inception many years ago. You too, are invited.
They meet and share devotions and a program while enjoying the fellowship and food. If you are interested in joining, please contact the church office.
Salt
Salt Bible Study meets on the second Saturday of every month at 8:30 a.m. at Southminster House.  We enjoy learning alongside one another as we study various books of the Bible.  We are currently learning about the Twelve Disciples.  We would be happy to learn alongside anyone who is interested in joining us.  Feel free to drop in or contact the church office.
Bible Buddies
All 1st through 3rd Grade students are welcome to join us after school one Friday each month for Bible Buddies!  Bible Buddies sing, color, read and learn about the Bible together.  We also share a snack!  Meet us at the glass doors (down the ramp off of Castle Shannon Blvd.) to join the fun.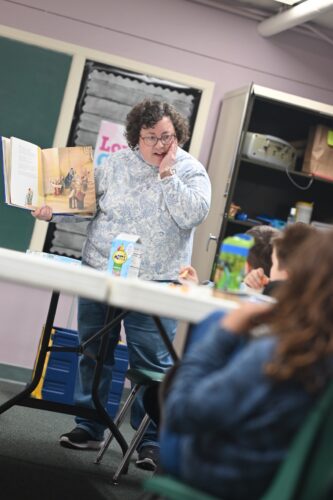 Adult Interest Center
This outreach to seniors 55 years old or older is open to members of Southminster as well as the community here in the South Hills. Every other Friday we meet at 11 a.m. for entertainment, a speaker or for games. We usually have between 30 and 40 people each week. It is a great time of fellowship. At noon we have a catered lunch which is available for $9.00 . Here are the upcoming events: April 21st – Speaker Gail Griffith on the "History of Pittsburgh Musicians". She will cover the proud and rich history we have here in the Pittsburgh area of talented musicians across the years. On May 5th – Singer Steve Tori will entertain everyone. On May 19th – we will Pursue Trivia. This will be our final meeting of the spring. We will not meet in June, July or August. We will begin our 49th year in September. Make sure you are on our mailing list for AIC to get up to date information
Small Group Bible Studies
We have several other small group studies and are happy to welcome you to join us.  If you are interested in joining any of our studies, please contact the church office.