Small Group Studies
Fresh Start Bible Study
This group is open to all and meets weekly on Monday mornings at 11:00 a.m. in the Chapel.
We work through various book or video studies together. This time of sharing has been very helpful to those who have attended. Put it on your calendar for 2023.
Questions can be directed to Fred Barnes. We look forward to seeing you!
Jesus & Joe Men's Fellowship
The Men of this group are finishing up an intriguing book entitled "Believing Is Seeing" by physicist Michael Guillen. It is his journey to God through the scientific field. It has been a very interesting book.
We will move onto a new study or viewing the series "The Chosen". We will meet on the following dates in December: December 2, December 9 and December 16.
Because of the holidays we will not meet the last two Fridays in December. Meetings will start up again on Friday, January 6th.
This group is open to all men of the church and their friends. We wish everyone a very Merry Christmas and a Happy New Year.
Sarah Circle
The Sarah Circle meets monthly on the fourth Tuesday at 1:00 p.m. in Southminster House.
The Sarah Circle has been welcoming women to come and participate since their inception many years ago. You too, are invited.
They meet and share devotions and a program while enjoying the fellowship and food. If you are interested in joining, please contact the church office.
Salt
Salt Bible Study meets on the second Saturday of every month at 8:30 a.m. at Southminster House.  We enjoy learning alongside one another as we study various books of the Bible.  We are currently learning about the Twelve Disciples.  We would be happy to learn alongside anyone who is interested in joining us.  Feel free to drop in or contact the church office.
Bible Buddies
All 1st through 3rd Grade students are welcome to join us after school one Friday each month for Bible Buddies!  Bible Buddies sing, color, read and learn about the Bible together.  We also share a snack!  Meet us at the glass doors (down the ramp off of Castle Shannon Blvd.) to join the fun.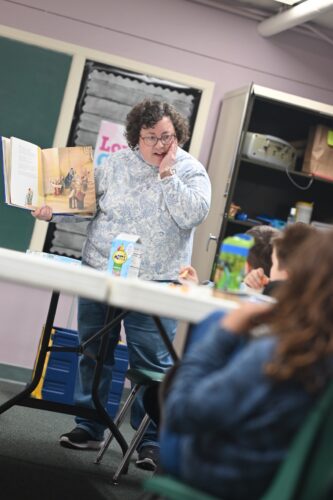 Small Group Bible Studies
We have several other small group studies and are happy to welcome you to join us.  If you are interested in joining any of our studies, please contact the church office.